What is it Used For?

This component is used for attaching a file to a document. When attaching a file to a document by using the attachment component, the file will be attached at the very end of the document as a new page.
Type and Size of Attachable Files
File type: PDF, JPG, PNG, GIF
File size: Max 5MB
Component Properties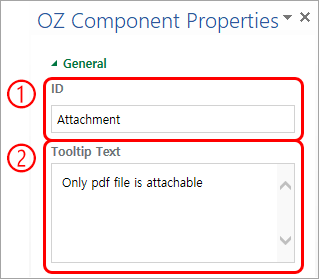 ① ID
Enter the ID of the attachment component (e.g. the ID of the component that attaches a resume can be named 'myResume').
② Tooltip Text
Displays the description in the tooltip text when you hover the mouse over an input field.